At 8.15am on Wednesday 28th May 2008, six of us left the comforts of our friend Vincent's property at Tanja for the Light To Light Walking Track (known as the LTL) south of Eden. I would be co-leading the walk with Vincent utilising his local expertise. The other four members of our group included Peter Farrell, Sandra Kelley, Paul Garrard and Lynne Spicer. We would be utilising two vehicles in a car shuffle for the walk. Paul & Lynne's four wheel drive would be parked at Green Cape for the walk finish on Friday while Sandra's four wheel drive would be parked near the trackhead at the beginning of the walk. Vincent went well out of his way to organise safe parking places for both vehicles at each end of the walk on private property.
South of Eden we turned off onto Edrom Road and drove the 18kms to Boyds Tower car park. Here, Peter and I were to look after the rucksacks while the others organised the car shuffles. While the others were away Peter and I spent our time reading the information boards at the car park and chatting to the one couple who drove up to take a look at the tower. Today's weather was overcast and a little cool, but the cloud cover was clearing. A sign on the trackhead for the LTL revealed we had been exceptionally lucky. The track had been closed from May 10th to 16th due to a hazard reduction burn in the area. Luckily we now have a NPWS website to check on track closures. (see link at bottom of page) The area was still very smoky as more hazard reduction burns were being undertaken north of the track. We would see evidence of the burning during the second day of walking.
Peter and I had been under the impression that the car shuffle would only have taken one hour and maybe 90 minutes at the longest. Our drivers had dropped us off with the rucksacks at 10.00am and it was now well after 11.30am. Peter and I were wondering if there had been an accident or a tyre blow-out or mechanical breakdown. Peter felt perhaps we should have swapped mobile phone numbers. If there was a problem there was no way either party could contact each other. We were now becoming quite concerned and knowing the other four would have a long walk from where they parked and as it was almost Midday we decided to walk up to the first hill, if not to see if the others were coming, but to get the blood circulating after sitting around for almost two hours. If they were just running late then I was thankful we had left earlier than originally planned this morning or we would be walking into camp with our torches on.
Boyds Tower - the start of the Light To Light Walk in the north
The top of the hill was only 200 metres away and when we got there we could hear Vincent's unmistakable voice carrying through the trees. Peter and I returned to the rucksacks and waited for them to arrive. Instead of immediately heading off down the LTL track we put our packs on and walked the 300 metres of bitumen track to Boyds Tower. The official start of the Light To Light Walking Track where we would have lunch. Boyds Tower was built by Thomas Boyd during the 1840's and was planned as a lighthouse. However, the authorities decided otherwise and the building was solely used as a watch tower to spot whales entering Twofold Bay, where a thriving whaling industry had been set up. Some of us sat on the wooden walkway around Boyd Tower while others went to take a look at the view points around Red Point. One of these views showed the blood red coastline of folded sheets of rock as far south as Mowarry Point, the other, looking north across Twofold Bay towards the town of Eden. This latter view was obscured by smoke from the hazard reduction burns being undertaken. By now the overcast conditions above had cleared, revealing a clear blue sky that accentuated the red rocks of the coastline.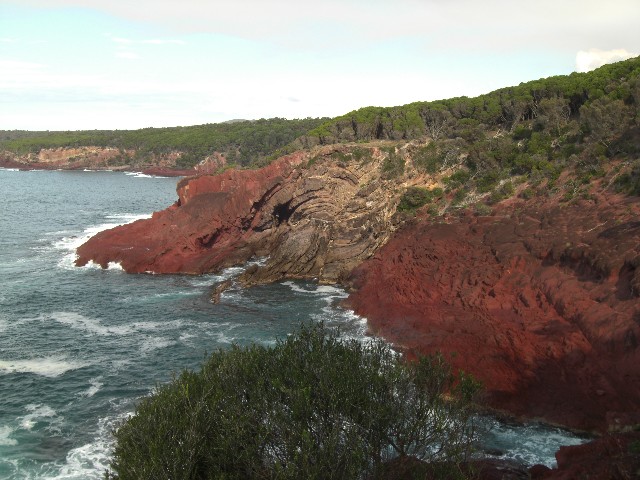 A view of the red folded coastline south of Red Point at the start of the walk. (Photo: S Kelley)
At 12.35pm we shouldered our rucksacks and headed back to the car park, where we then turned onto the Light To Light Track. The track heads eastwards then south through melaleuca thickets and soon we were exploring a side track that takes us to a rocky cliff edge and some of the reddest coloured rock you've ever seen. We were also fortunate enough to witness a pod of dolphins swimming near the shoreline. The track then follows the coast for some distance occasionally giving views back towards Boyds Tower. After crossing a small creek we ascended gradually to an old dirt road, following this we soon came to an intersection and turned left, following another road for about 300 metres until a right hand LTL signposted turn had us again walking on foot tracks.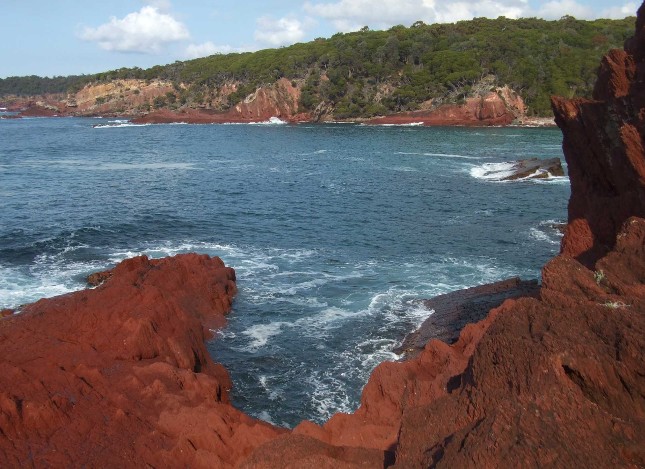 "How Green Was My Valley?" More like "How red was the coastline?" - Red rocky coastline is a common feature of this walk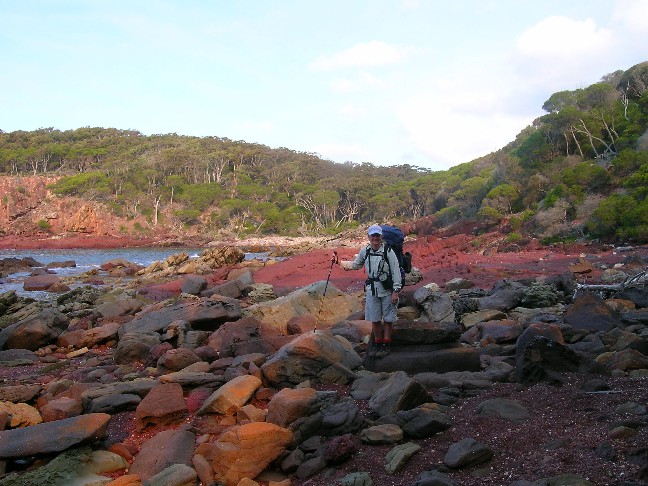 Lynne Spicer enjoying the variety of colours at Leatherjacket Bay (Photo courtesy P Garrard & L Spicer)
The track now descends to Leatherjacket Bay. After crossing the red stony beach we took a break on a grassy patch of flat ground on the southern end. This is obviously an emergency camping ground with room for a few tents, but we wouldn't be requiring this site today. When we continued on we had an interesting ascent up an old dirt road. This road then descends to a log bridge before steeply ascending the other side. We notice the creeks here are very dry. It doesn't look good for tonight's water supply. Then we descended to the next dry creek and up another ascent. When we descended to the next bridge we noticed there had been logs placed at the side of the road and a sign that announced the side road was closed. At the bridge Vincent was certain we were close to a nice secluded beach and we dropped packs and scrub bashed our way 300 metres along an almost dry creek bed to what appeared to be a suitable bush camping area.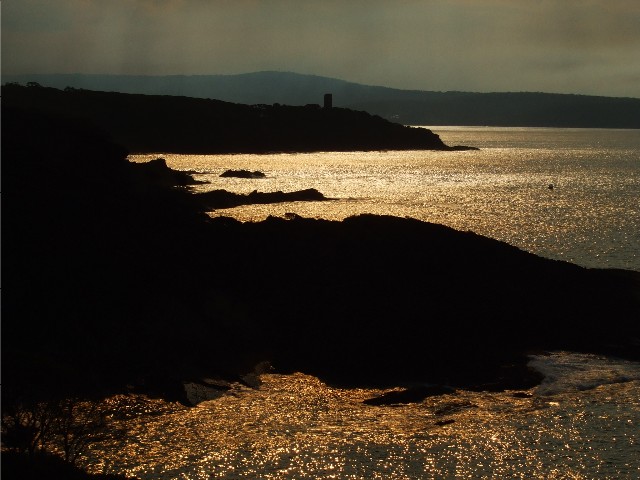 Looking back to Boyds Tower above Leatherjacket Bay. The bushfire smoke haze and low sun creating a golden effect on the water
We all agreed this would make a perfect campsite for the night. The grassy area was big enough to fit at least 10 tents and featured a raised campfire (Obviously built up on previously used ashes) one end of the grass was dominated by two large wombat burrows. Beyond the grassy area the little cove was backed by a white sandy beach. Behind the campsite the melaleuca forest covered a steep hill. We all rushed back to the road to collect our rucksacks at 3.30pm and spent the next hour pitching our tents, collecting water from the on clear waterhole on the creek and collecting firewood. The creek water turned out to be very salty, suitable only for cooking. There was a large pile of cut timber around the campsite that provided excellent seating around the campfire. After this was all done we set to preparing our dinners with a large diversity of cooking stoves.
The campsite has been described in some guidebooks as being located at a place described as Farm Bay, probably because this area was once farmland and there are a number of clearings nearby. After dinner we got the campfire going and sat around talking, until Vincent told us about his Aunt Beatrice. This word game had most of us baffled for some time, but eventually everyone started to cotton on and the game was eventually solved, though Vincent was called a few choice names in the meantime. Several of us plotted revenge for tomorrow night. As we put pieces of driftwood on the fire we noticed several strands of dry seaweed were attached and the hollow dry polyps on the weed exploded in the fire like Chinese Firecrackers. What fun this was and we were soon scouring the beach for more clumps of seaweed. One by one the group retired to their tents after 8.00pm and it was 9.00pm before Vincent and I called it a night.
Our campsite at Farm Bay
Everyone was up by 7.15am next morning. Another clear sunny day but overnight condensation on our tents slowed our packing up, at least until the rising sun came over the top of the north east shoreline to help speed the drying. We moved out at 8.55am and rejoined the track as it ascended the ridge and soon came to a spot signposted as Mowarry Point Camping Area. Mowarry Point itself is much further to the east, but this area is well worth taking a look at. We dropped our packs and made our way through the long grassy clearings to the coast. Paul & Lynne went in a different location, looking for a dam on the creek which supplied fresh drinking water. We descended to a small campsite behind a scenic looking beach a little smaller in size to what we had just camped on ourselves, but obviously there were other sites nearby. We crossed the beach, finding the rare sight of an obviously dead palm tree sticking out of the sand. then scrambled up the nearby slope to find more suitable campsites. This ridge top led down to a rocky point containing a large rock platform and sculpted rocks. The shapes and colours had us transfixed. As we made our way back up the ridge we were joined by Paul & Lynne who had been unsuccessful in locating water. While we continued exploring the ridge top and its low cut grass, Paul & Lynne went to explore the point. We did not witness the blatant mooning they claimed to have performed in our direction during this time or we would have recorded it on camera for posterior (sorry, Posterity).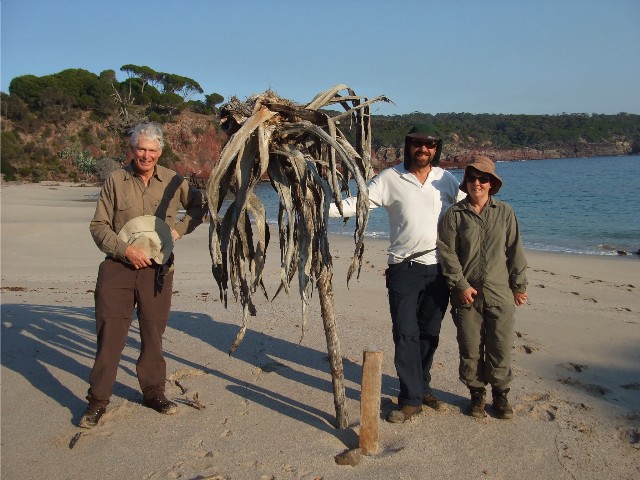 The strange sight of a long dead palm tree on the beach at Mowarry Camp. L-R Peter Farrell, Vincent Weafer & Sandra Kelley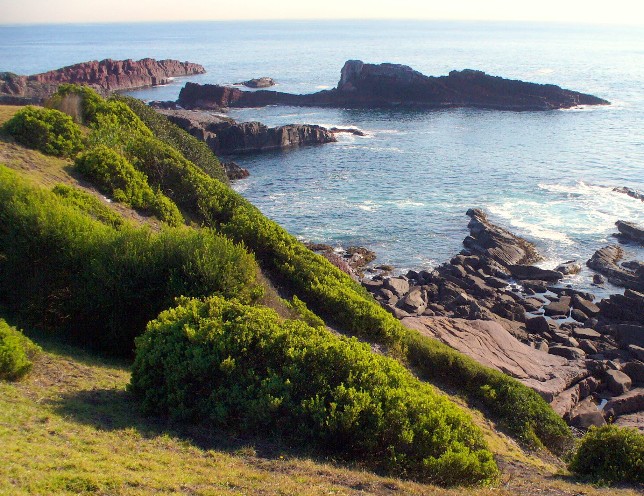 Looking down at the rocky point and rock platform from the ridge near Mowarry Camping area (Photo: V Weafer)
We had spent most of the previous hour exploring this area, so now it was time to return to our rucksacks and continue the walk south. From here the track was well signposted as it made its way through old cleared farmland, heathland and melaleuca forest. A section of track near a cliff line provided more good coastal views but our views back north towards Boyds Tower were obscured by smoke from the back-burning. We descended to another stony beach just west of Mowarry Point where one of the main features are the red boulders that are veined with quartzite. The track now cuts through the forest before reaching more red rocky coastline on the southern side of Mowarry Point. Track markers showed us the way across the rocks before we then re-entered the heathland for some distance before again coming out onto the edge of a very red cliff top that afforded grand views to the south.
We got out Lynne's tripod and set a camera on timer after deciding this cliff top would make for an excellent group photograph. A check of my GPS revealed a discrepancy on the eastings reading, something I would notice for the remainder of the walk. It was only when I got home and related my story to fellow club member Brett Davis that I was informed of the discrepancy in the far south coast area of New South Wales. It certainly isn't the GPS that is wrong, it's the topographic map. However, we had no problem working out our exact position on the map as it was the only possible place we could be.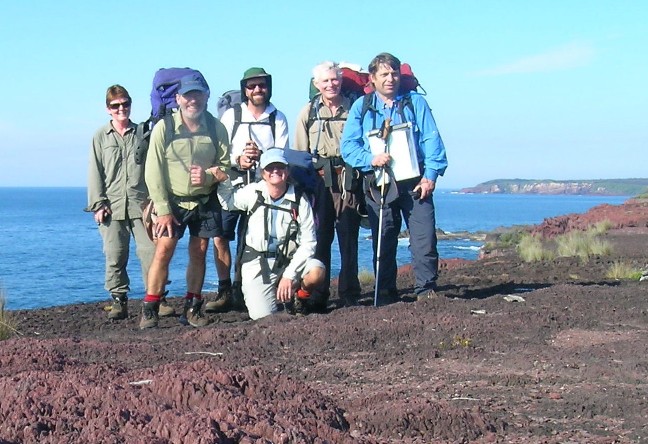 What a motley crew. L-R Sandra Kelley, Paul Garrard, Vincent Weafer, Peter Farrell, Paul Ellis, Lynne Spicer in front
(Photo courtesy P Garrard & L Spicer)
We now followed the coast southwards before the track took us inland through a very scenic forest that included a thick ground cover of ferns and the smell of brewing tea before the track descended to the sandy entrance of Saltwater Creek. We crossed the sand and entered the Saltwater Creek Camping Area at 11.15am and located the water tanks which we used to top up our hydration bags. We located some suitable tables to sit on and enjoy an early lunch. The camping areas here looked brilliant. Level and well grassed, but the majority had been roped off from use due to the danger of falling limbs from the surrounding trees. One would hope this problem will be rectified before the next holiday season.
At 12.45pm we returned to the sandy estuary of Saltwater Creek and followed the sand south towards the estuary of another, this being Woodburn Creek. As we passed by a low dune we startled three eastern grey kangaroos who hopped off at speed, criss-crossing in front of Peter and Vincent who were about 40 metres in front of us. When we crossed Woodburn Creek and entered the forest we spied two more kangaroos nearby. We now ascended a small headland through melaleuca forest. We now walked through bushfire burnt country. This was the result of a hazard reduction burn to reduce the amount of combustible material in the area prior to the next fire season and the reason the track was closed until just recently. The area had been devastated and the walking track looked so well defined surrounded by fire blackened countryside but of course the vegetation would grow back quite quickly.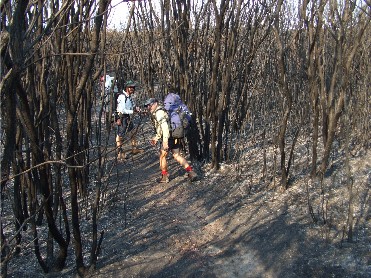 Two photographs of the fire blackened heath and melaleuca country south of Saltwater Creek
As we reached the top of the first hill we were treated to our first view, far to the south, of the Green Cape Lighthouse. Much too far away to even photograph. As we descended to a creek we were given a respite from the burnt area, though this patch of tunnel like melaleuca was very dark. As we ascended on the other side the fire burnt country returned and this fire had been very hot here, judging by the remains of the trees. A little further on we passed many hakeas, their seed pods open. The fires have sprouted another generation of hakeas ready to sprout in the next rains. We soon left the burnt country behind. Now walking through low heathland, we had a good idea what the burnt country would have looked like one month ago. These heathlands were full of bird song and a number of inquisitive wallabies.
At 1.45pm we descended to Hegartys Bay and had a short break on the rock platform next to the creek before heading along the track behind the bay to the Hegartys Bay campsite. It had been our intention to camp here on our second night, yet it was still early afternoon and we felt we could make the extra 5kms to Bittangabee camping area before it got dark. We voted unanimously in continuing to Bittangabee. We put our rucksacks back on and descended to and crossed the creek, then ascended the stone steps on the other side through the forest then across the heathland. We started to make good time, even Sandra was enjoying the full pack walking now she had got over carrying a fully loaded pack on the first day. Soon after taking our first view of a distant Bittangabee Bay we descended onto a rock platform high above the ocean. Here, Vincent decided he wanted to remain to explore a sea cave he had seen on a recent sea kayaking trip. Although we were welcome to join Vincent on this side trip we all agreed we wanted to continue on to Bittangabee and set up camp. Vincent would catch up to us later and as a precaution, we informed him he had two hours in which to return, or we would be sending out search parties.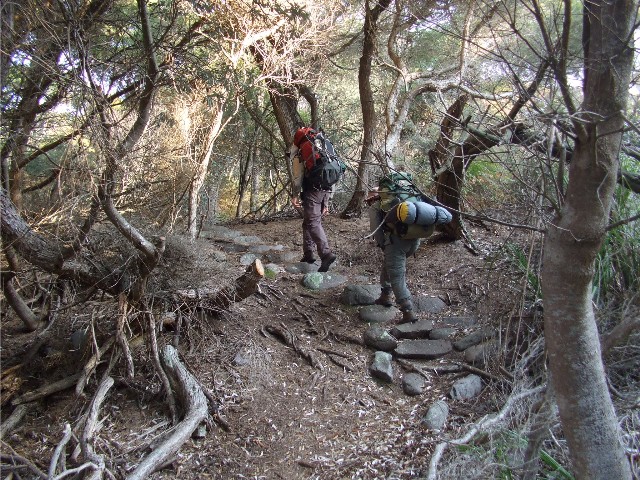 Peter and Sandra ascending into the forest from the creek after leaving Hegartys Campsite
I now led the group through the forest as it descended to Bittangabee Creek crossing, the forest had a thick ground cover of ferns and a variety of birds could be heard. We were on the look out for the rare ground parrot which can be seen in these parts, but I think the recent nearby hazard reduction may have scared them off for a while. We were not to see any ground parrots during this walk (good enough reason to return in the future.) As we crossed Bittangabee Creek our group split up yet again. Paul & Lynne stopping to replenish water supplies while Sandra, Peter and I continued the final kilometre to the camping area. We passed a track intersection just after the creek crossing. The higher track leading to the Imlay cottage ruins which we planned to visit next morning. We took the lower, coastal track through spotted eucalypt forest which gave fleeting glimpses of the aqua green water of the bay. After passing the second track intersection to the cottage ruins we had but a short section to walk. The first area we came to was the day visitorís area of Bittangabee, the overnight camping site was another 500 metres away.
Paul Garrard negotiating a very ferny track through the forest north of Bittangabee Bay
We arrived at the campsite at 3.50pm and wasted little time setting up our tents. Paul & Lynne soon arrived. Our tent sites were again on grass surrounded by trees. Toilets and water tanks were just 50 metres away and each area had its own fire pit. There was a large variety of wildlife about. These included very tame wallabies, magpies and several wonga pigeons. After dark we had the added fun of dealing with the possum menace. Vincent arrived at camp at 4.40pm, by which time we were already cooking dinner. Vincent had been able to access the sea cave during the low tide and had done a bit of exploring. With dinner finished by 6.00pm we stood, crouched or sat by the fire. Tonight was Lynne's revenge over Vincent's Aunty Beatrice game and we had a lot of fun playing the Shipwreck game in which we could only salvage one item at a time from the wreck and each item had to start with a certain letter. Yes, revenge was quite sweet. We had all retired to our tents by 8.30pm.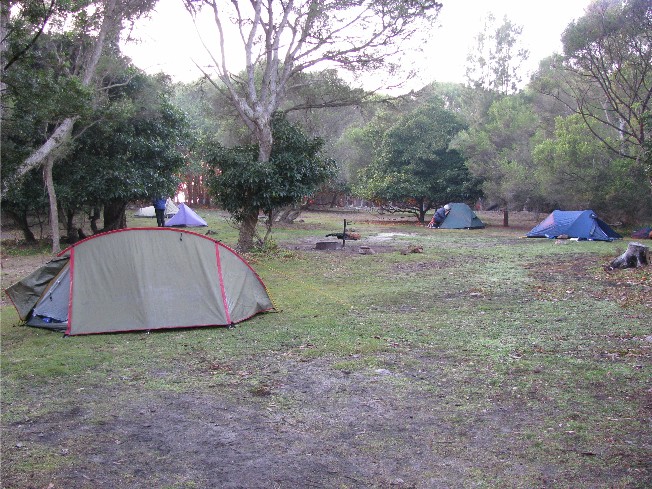 Our tents at Bittangabee Camping Area on the final morning of the walk (Photo: P Farrell)
We were all up by 7.00am, some of us walking through the forest to the cliff tops to view a golden sunrise. Again we had a clear cloudless sky for our final day on track. The clear night sky had left our tents saturated with condensation and it was a case of dragging the tents over to an open sunny patch or using a towel to dry off the moisture. After breakfast and packing the rucksacks we headed off at 8.45am to visit first the old Green Cape lighthouse store and wharf (or what remained of it) on the shoreline of Bittangabee Bay then made our way back along the track we had walked in on yesterday to visit the ruins of the Imlay Brother's homestead. A viewing platform allowed us to look over the foundations of this building which remained uncompleted due to two of the brotherís untimely deaths in the 1840's. We now returned to our rucksacks and prepared to move out.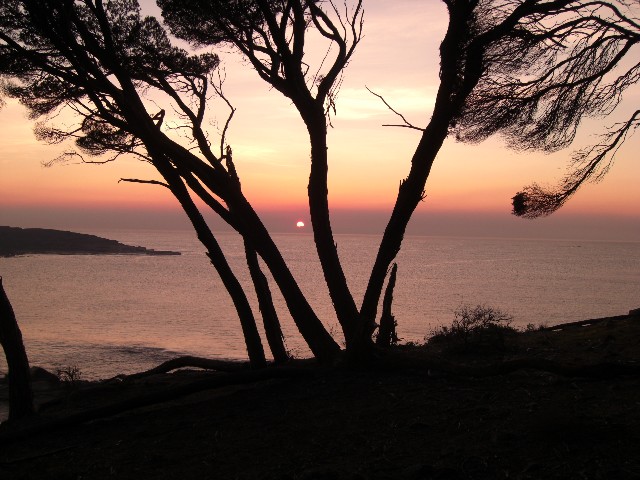 Bittangabee Sunrise - aided by the smoke haze from nearby hazard reduction burns (Photo: S Kelley)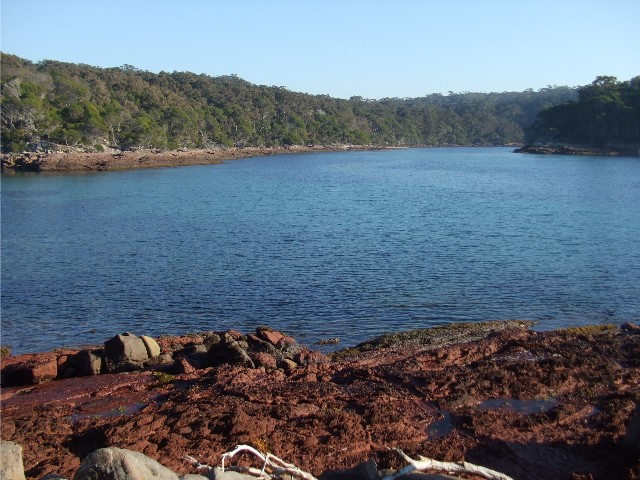 Bittangabee Bay from next to the old Lighthouse store ruins
At 9.40am we headed off towards Green Cape. Again we left Vincent behind as he had a few extra things to check out and promised he would catch us up. The track made its way through thick forest, we utilised some wooden steps to descend to a creek and up the other side, then the walk was a mainly level track through the forest for some distance. The track passed ferneries, hakeas, banksias, melaleucas and eucalypts. Sandra, Peter and I started to pull away from the others and had the forest to ourselves for a while. Obviously we had our noses in the 'Chaff Bag', that tendency on the last day to pick up the pace when the end of the walk is near, a bit like the horse bolting for the stable on the return leg home after a long day on the trail. Paul Garrard thus referred to it as having our noses in the chaff bag. An apt description. After crossing a creek we heard a strange sound coming from behind us in the forest. When Paul & Lynne caught up to us a few minutes later, Paul told us the harrowing story of a tree falling onto the track just 10 metres behind him. We couldn't work out why the tree had fallen, the breeze certainly wasn't very strong this morning, however, the threat of falling trees in the forest had us on our guard for a while.
Paul Ellis poses by a Light To Light Walking Track marker near Pulpit Rock (Photo: S Kelley)
We continued through the forest until we crossed a second creek, then ascended to a dirt road where we stopped for a short break at 10.30am. Vincent caught up a few minutes later and we asked him if this dirt road led to Pulpit Rock. I had tried another GPS reading, but again the eastern readings were way off the map. Disgusted, I packed the GPS in my rucksack. The road to Pulpit Rock was obviously a little further on so we continued up the road to an intersection where a LTL sign led us onto a heathland track. The sign informed us we were only 2.5kms from Green Cape and the end of our walk. Out of sight of the road we dropped our rucksacks, grabbed our cameras and headed down the road from the intersection to Pulpit Rock.
Paul Garrard poses as a fully clothed Da Vinci's Vitruvian Man at Pulpit Rock? Or is he just exhausted from carrying his rucksack?
(Photo courtesy P Garrard & L Spicer)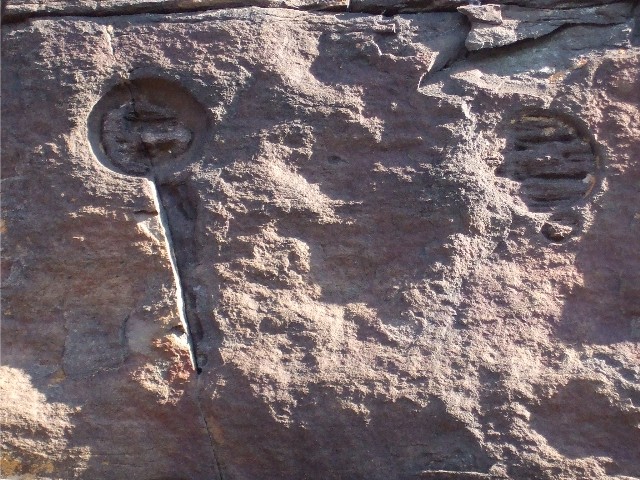 Key shaped weathering in the rock face below Pulpit Rock
The walk was only 500 metres and soon we arrived at the parking area next to the cliff edge and found a wooden staircase leading down the cliff. We followed it onto a long steep sloping rock. Keeping to the high point we came to the edge of a sheer drop and a magnificent view north along the coast. This was obviously Pulpit Rock. Peter, Paul & Lynne remained at the top of the rock, scanning the ocean for whales and sea birds while Vincent, Sandra and I scrambled down the slope to explore. The first thing we noticed was the strange shapes and patterns eroded into the rocks, one of which looked like a large key. Eventually we reached the water's edge, had a look around, then returned to join the others. They had noticed several gannets diving into the ocean for fish, what they thought may have been a whale and another sea eagle.
Three Wise Monkeys or three wise bushwalkers studying the birdlife from Pulpit Rock
L-R Peter, Lynne & Paul
Returning to our rucksacks along the dirt road we noticed something strange and cotton-like drifting in the air. Sandra had one land on her hand and it turned out to be a very strange looking purple insect with a white fan-like tail. There seemed to be a swarm of these insects and we had no idea what they were until later. After Sandra's bug flew off there was a mass of activity as our group chased these flying insects in a bid to catch and photograph them. They turned out to be "Bird Of Paradise Flies" or properly titled "Violet Phoenix" a member of the Mealy Bug family. We had not seen any insect like this before.
Lynne Spicer described the encounter this way ..... We had left our packs just off the track (hidden from potential curious eyes driving into this area) and proceeded to the Pulpit Rock Lookout. As Paul Ellis describes, the Pulpit Rock was pretty dramatic as were many areas of this walk. The rock formations were extremely colourful and yet different to what we had seen before. On our way back to retrieve our packs and starting to smell the chaff bag, Sandra Kelley alerted us to her very extraordinary find. Opening her cupped hands she revealed an incredible little creature like I had never seen before. You know, whenever we do any sort of walk/adventure there's always a particular happening or sighting that we think - "If nothing else then this has just made this walk worthwhile and special". I had thought the scenery that we had been exposed to for the past three days to be that special something - but I was wrong. This little fellow, this little insect, which had caught Sandra's eye because it looked like one of a number of seed pods floating on the wind, was incredibly beautiful. My first thought was that "It's Tinkerbell!" It escaped Sandra's hand and Paul Garrard and Sandra were soon recapturing specimens and holding them in a cupped hand for photographing. Fortunately one of the one's Sandra caught was quite comfortable sitting on her arm and allowed us to get a few close-ups. Paul Garrard described our little friend as a May Fly because he thought it looked a little like a trout fly he once had. You can see from the picture how beautiful and captivating he is. (The fly that is - not Paul)
Violet Phoenix, or Bird Of Paradise Fly (Photo: V Weafer)
After returning home I put the photo out to friends and was fortunate enough for one of them to identify him, and it was a him, a Bird of Paradise Fly - Violet Phoenix - Callipappus. Sp. - Family Marharodidae - a member of the mealy bug family. By doing a bit of a Google I was able to confirm this identity and also get to see what 'the other half' looked like. This little fellow would have only been a maximum of 1.5cm long but the 'wife' remains a bug, is wooed by many suitors and is quite happy to entertain all comers (no pun honest). While she is probably about 4cm long and covered in armour a bit like a slater. Apparently this little guy and his mates take to a mating flight at the start of winter, it was the 30th May. I feel very honoured to have witnessed and seen him first hand.