site contents
concert repertoire includes
East Timor multimedia:
(a selection will be made in consultation with the concert organisers)
Tekee Tokee Tomak

Using photographs by various people, this new piece was premiered in Manchester in January. Like all of Wesley-Smith's recent multimedia pieces, it requires a Macintosh computer, an LCD data projector, some sort of screen, and a stereo sound system. We have all this gear, and can bring it with us.

cl &amp computer
[2003]
Martin Wesley-Smith

images by various photographers, including Kathryn Morgan & Alice Wesley-Smith

"Tekee Tokee Tomak" means, in a rough translation from the Tetum, "Let's get together and enjoy ourselves". This is what the East Timorese people are now trying to do in order to re-build their shattered lives and country.

12'
Welcome to the Hotel Turismo

... they went mad - they cried, and cheered (four times back to the stage, and I was beginning to get emotional too), and were spellbound. A couple of times - like in the cadenza, and right at the end before the 'Welcome to the Hotel T' comes back), it was SO quiet - it freaked me out ... I had complete strangers coming up, with tear-stained faces (saying) how powerful it was ...


cellist Rachel Scott after her recent performance of Turismo in London

cello
(or bass cl)
&amp computer
[2000]
Martin Wesley-Smith

images by various photographers

David Vance in The Sydney Morning Herald, August 13 1998, writing about Wesley-Smith's Timor piece Quito:
"(His) music has never been far removed from political or social comment, and his gift for pastiche has served him well in adopting familiar styles, often (but not always) drawn from popular music, to ironic or satiric purposes."

from a Timorese listener in Darwin to the ABC broadcast of Quito, May 6 1997:
"It is a masterpiece of music. I cried my eyes out until no tears were left. I felt the tragedy of East Timor perforating my bones as I never felt before. I'm going to buy the CD."

16'
X

Commissioned by American clarinettist F. Gerard Errante, this piece has been performed, by him and by Ros, many times in the USA. It was composed in 1999 as the Indonesian military-promoted militia carnage was raging across East Timor. At the time, resistance leader Xanana Gusmão (the "X" of the title) was in Cipinang Prison, Jakarta.

see separate web page

cl &amp computer
[1999]
Martin Wesley-Smith

images by various photographers

an audio-only version of this piece has been included on Ros Dunlop's CD X

note: this piece contains some shots of East Timorese torture victims and thus must be programmed with caution

12'
Afghanistan multimedia:
Merry-Go-Round

about Afghanistan, using photographs taken there in 2002

cl, vlc
&amp computer
[2002]
Martin Wesley-Smith

photography by George Gittoes
and Alice Wesley-Smith
(model: Hollie-Berrie)

a version of this exists for clarinet &amp CD-ROM

George Gittoes drawing,
Somalia, 1993-4

16'
Iraq multimedia:
Weapons of Mass Distortion


about the Coalition of the Killing's 2003 invasion of Iraq

These days we are seeing more and more of what in 1946 George Orwell exposed (in "Politics and Language") as the deceits and devices of "doublespeak". For example: "collateral damage" really means the maiming and killing of innocent civilians; "removal with extreme prejudice" means assassination; "incontinent ordnance" are bombs which hit schools and hospitals by mistake; "active defense" is invasion; and an "energetic disassembly" is a nuclear explosion. During the Vietnam War, "limited duration protective reaction air strikes" meant bombing Vietnamese villages. In Australia, asylum-seekers, who have committed no offence, are dismissed as "illegals". As Melbourne barrister Julian Burnside points out: "(Language) can hide shocking truth, it can deceive a nation, it can hand electoral victory to the morally bankrupt."

Rumsfeld's word "deconfliction" meant invading Iraq - at the cost of thousands of lives, massive damage, and billions of dollars - to stop it using (apparently nonexistent) weapons of mass destruction and giving them to terrorists with whom it apparently had no links. This piece looks at the abuse of language, particularly the use of doublespeak in undermining the democracy in whose name we invaded Iraq.

Some might disagree with the viewpoint of this piece. But one of the reasons we were given for Iraq being invaded was to bring democracy to the poor oppressed people of Iraq, who had been suffering under the yoke of Saddam Hussein's despotic rule. Our own democracy still allows (although it's under threat), free speech. If this piece provokes discussion of the issues involved, then well and good ...

cl &amp computer
[2003]
Martin Wesley-Smith

photographs by George Gittoes and many others

cartoons by Steve Bell, Alan Moir, Peter Nicholson and others

completed in September 2003 and premiered in Darwin, by Ros Dunlop and the composer; since performed by them in many places, including Bowling Green, Ohio; Chicago; University of Northern Illinois; University of Santa Clara; Palomar College, CA; Solana Beach, CA; Community College of Southern Nevada, Las Vegas; University of Montana, Missoula, Montana; University of Radford, Virginia; Bomaderry Bowling Club, Bomaderry, NSW, Australia; Manly Art Gallery, Sydney; Academy of Music &amp Theatre, Vilnius, Lithuania; Sandwich Technical School, Sandwich, Kent, UK ...

For a report on the 2003 USA tour, click here; for a report on the 2005 USA tour, click here.

Gittoes and Wesley-Smith have worked together, on and off, since the 1970s. Their collaborations have included the award-winning film The Rainbow Way and the legendary Wattamolla environmental events, at Wattamolla Beach in Sydney's Royal National Park, in the late 70s/early 80s.

---

"When I use a word," Humpty Dumpty said, in rather a scornful tone, "it means just what I choose it to mean - neither more nor less."
"The question is," said Alice, "whether you can make words mean so many different things."
"The question is," said Humpty Dumpty,
"which is to be master - that's all."

10'
West Papua multimedia:
Papua Merdeka


The 1969 UN-sanctioned "Act of Free Choice" that handed the Dutch colony West Papua to Indonesia was a sham, an act of no choice for the West Papuan people. Since then, Indonesia has treated the territory as it did East Timor, with rampant human rights abuse as well as exploitation, in collusion with America and others, of West Papua's rich natural resources.

This piece is about the West Papuan people and their thirst for freedom. Almost all the sources I've used in creating it were begged, borrowed or stolen from others. They include Agence France Presse, the Australian Broadcasting Corporation's 2JJJ, Penny Beaumont, Sheila Draper, Don Bennetts, Gerry Errante, Steven Feld, Lynne Hamilton (of Prowling Tiger Press in Melbourne, who published "West Papua: Follow the Morning Star" by Ben Bohane, Jim Elmslie and Liz Thompson, an inspiring book of superb texts and photographs), David Kirkland, Jonny Lewis, Robert Lowry ("Shall We Gather at the River?"), Jonathon Mustard, SBS News, Edward Smith and Alice Wesley-Smith - my thanks to all these plus to all those whose names I don't know or contact addresses I can't find. Apologies to those whose names have been inadvertently omitted. Thanks, too, to David Bridie, Louise Byrne, Andrew Kilvert and Rob Wesley-Smith. Two other books provided valuable information: Jim Elmslie's "Irian Jaya Under the Gun" (Crawford House Publishing (Australia) Pty Ltd) and Peter King's "West Papua Since Suharto" (University of New South Wales Press). I used the beautiful West Papuan anthem Hai Tanah Ku Papua. Flags, used with permission, came from http://www.theodora.com/flags. Most of the bird of paradise paintings were by Rowan Ellis (1848-1922). Finally, thanks to Ros Dunlop for commissioning the piece. And, for funding assistance, to the Music Board of the Australia Council, the Australian Government's arts funding and advisory body.

---

for information about "West Papua: Follow the Morning Star", email Lynne Hamilton at prowling@bigpond.net.au

for other relevant publications, click here




bcl &amp computer
[2005]
Martin Wesley-Smith

photography by many photographers far and wide, including some whom I haven't been able to contact

12'
other multimedia:
Lands Collide

The concept here is to make the sounds and visuals grow in and out of each other with depth and constant movement with combinations of definition and confusion but as a whole to create unity. Throughout the piece, old maps and landscape that have been untainted by man, Javanese flutes and gongs, organic drawings also largely influenced me. The sounds and visuals are unique, like the wind, full of rich sonorities just waiting to be transformed or left alone. The aim was to try and convey moments, portraying a simplistic, gutteral, earthy yet sophisticated sound field and landscape as one can feel frequency changes with these sound and viual worlds through extreme contraction, expansion, panning and pitch modification. Lands Collide can also be described as an exploration of sounds at different dynamic and room placements and been embedded into different scenes by means of subtle dynamic curves both visually and aurally.

cl, cello
& computer
[2002]
Brigid Burke

is a clarinettist, composer, educator and visual artist. She has performed internationally in solo and chamber recitals. Recent performances include Cybersonica International Festival of Digital Music and Sound at the ICA, London; MAXIS 2002 Festival/Symposium of Audio & Art, on the River Hull, England; Seoul International Computer Music Festival 2001; and performances at other festivals in Bulgaria, Slovenia and Frankfurt. Brigid has received eleven art awards, and has exhibited throughout Japan in the Japanese International Hand Printed & Shhin Kohanga competition, 1989-2002.

9'
audio-only pieces:
Benny's Gig

Morton Gould wrote this for the occasion of his close friend Benny Goodman's 1962 Russian Tour in celebration of his 70th birthday: "What does one do for a special long-time friend and super-colleague on a special birthday? Had you turned 70 before inflation a special gift worthy of this event would have been the answer. But under the circumstances, and as the last of the small spenders, I thought and thought - and finally decided to write you a piece - on 2 staves, no less! To quote you, "It Aint Sweet Georgia Brown" - but it does signify my affection and friendship and admiration for you."

cl &amp cello
[1962]
Morton Gould

"Composing is my life blood," said Pulitzer Prize-winning composer Morton Gould, who died in 1996 at the age of 82. "That is basically me, and although I have done many things in my life - conducting, playing piano, and so on - what is fundamental is my being a composer."

Capping a life full of achievements in all facets of music are Morton Gould's 1995 Pulitzer Prize for Stringmusic, commissioned by the National Symphony for the final season of music director Mstislav Rostropovich, and his 1994 Kennedy Center Honor in recognition of lifetime contributions to American culture.

10'
25 Measures

Written for Australian clarinettist Peter Jenkin, this piece is short, succinct, quirky and lighthearted.

cl solo
[1996]
Elena Kats-Chernin

was born in Tashkent, in the former USSR, in 1957. In 1975 she migrated with her family to Australia, where she studied at the NSW Conservatorium. After studying with Helmut Lachenmann in West Germany, she remained in Europe for over a decade, writing incidental music for State theatres in Berlin, Vienna, Hamburg, and Bochum. She returned to Australia in 1994 and is now resident in Sydney where she is frequently commissioned and performed.

1'
Aurora

Margery Smith: "At the time this piece was created, I was in the middle of a Canadian winter. I wanted to create the feeling of huge space, the continual shift of focus suggesting the flickering lights of the Aurora Borealis."

bass cl &amp CD
[2001]
Margery Smith/Will Frasier

Margery is an accomplished clarinettist as well as composer. Her solo engagements have included appearances with the Sydney Symph as soloist on clarinet and saxophone. Her latest work, T(F)ree Radicals for 3 Bass Clarinets, was composed for Touchbass.

10' 30"
Bastard's Broth

commissioned by English saxophonist Kyle Horch, Steve arranged, in 2000, the saxophone part for bass clarinet; with the format of a jazz medley, the piece whizzes through many different styles very quickly with a zaniness reminiscent of Frank Zappa

bass cl &amp CD
[1993]
Steve Ingham

studied at the University of York with Bernard Rands, the University of Bloomington, Indiana, with Donald Erb, and, later, with Klaus Huber and Brian Ferneyhough at the Staatliche Hochschule fur Musik, Freiburg. He now teaches at the University of Wollongong in New South Wales.

5' 34"
Klezmer Duets

there are eight short pieces here that can be played separately or in any combination

cl & cello

Mike Curtis

is an exceptional Klezmer musician. His lyrical performances on clarinet, saxophones, tarogato, oboe and bassoon have enchanted audiences throughout the West Coast and around the world. For more than 14 years, Mike has performed and recorded with such groups as OOMPH Intercontinental Klezmer, The Mazeltones, the Hester Street Klezmer Band, Second Avenue West, and the Tucson Favorites. He has toured throughout Eastern Europe, including an appearance at the 1992 Festiwal Kultury Zydowskiej in Karkaw Poland.

1-4'
each
Tagore Songs (1, 2 &amp 4)

1. Reflected ...from a far off world ...and vanished!
2. Swept by the mad cadence of the storm
4. Where roads are made, I lose my way

In India, a young performer learns her/his instrument by studying with a singer - so the music always has a vocal foundation. Tagore Songs emulates this improvisatory spirit, although the piece is in fact fully notated. The movement titles are fragments from writings of Bengali poet, philosopher, mystic, painter, musician Rabindranath Tagore (1861-1941), whose work holds even more power for Brockman now than it did twenty years ago.

cl &amp CD
[1997]
Jane Brockman

is a US composer based in Santa Monica. Her focus is entirely on concert music, which has been recorded by many labels and toured by many ensembles. After some years as professor of composition in Connecticut she now works full time as a composer in California.

7'
Verfranzt

The German verb 'sich verfranzen' suggests "to wander off course". The harmonic basis for the piece has been largely recycled from a well-known work of the classical/romantic piano repertoire, although the scoring of this electro-accoustic version (made at the University of Wollongong in 2003) employs clarinet, cello and pre-recorded sequenced material. Beware - it may lead you up a blind alley full of red herrings!

cl, cello
&amp CD
[1997]
Stephen Ingham

studied at the University of York with Bernard Rands, the University of Bloomington, Indiana, with Donald Erb, and, later, with Klaus Huber and Brian Ferneyhough at the Staatliche Hochschule fur Musik, Freiburg. He now teaches at the University of Wollongong in New South Wales.

7'
site contents
site contents
from Clarinet &amp Saxophone, London, Spring 2003:

TEKEE TOKEE TOMAK

Australian Multi-Media Works
February 6, 2003
St Cyprian's Church, London NW1

reviewed by David Morris

My diary tells me that I had a clarinet lesson on Monday 20th May last year. Strangely, it neglects to mention that on that same day, the people of East Timor gained their independence, dollowing 24 years of Indonesian occupation. This British Music Information Centre-supported concert in St Cyprian's Church was part of a tour by Ros Dunlop and Martin Wesley-Smith (the Tekee Tokee Tomak Tour) to raise awareness of the struggle of East Timor to recover from its recent history of seemingly often brutal oppression.

In another world, the fine golden screen at St Cyprian's provided a vivid backdrop for this multi-media programme. Before it stood a large screen of a different kind flanked by speakers on tall stands, and a modest projection and mixing desk set between the two front rows of the audience.

The evening opened with Gerard Brophy's Iza, a short but vigorous and warming duet for bass clarinets, performed by Natascha Briger and Ros Dunlop. Both players immediately established their proficiency, though throughout the evening it was the legato lines that fared best and sometimes a little of the rhythmic punch was lost to the big acoustic.

Down to business, however, and next was X by Martin Wesley-Smith. This was the first of several of his multi-media works, comprising slides, tape and clarinet. Lest there be any confusion, the slide show was not of the 'Could we have the next one, please Geoff' school, but a compelling sequence of images fading into one another, colours and textures constantly on the move, all under the control of the composer and his Macintosh. The tape merged broadcast sound bites with choral passages and electronic effects, big noise with jaunty instrumental numbers, all synchronised with the visual images. Over the top was Ros Dunlop's live clarinet. "X" refers to the resistance leader Xanana Gusmão, imprisoned in 1999 while the Indonesian military withdrew from East Timor. The images were brutal. So was the music, though the screaming clarinet might have benefited from some amplification to match the volume of the tape and heighten the anguish in the climactic passages. However, in quieter parts, Ros Dunlop's melancholy lines were serene.

Later came Wesley-Smith's short epic Welcome to the Hotel Turismo, in a similar format, but now observing the occupation of East Timor from the viewpoint of the eponymous hotel, still standing after all these years. No winds, just a cello and CD-ROM of sound bites and song, with a catchy refrain to rival anything by Don Henley. Despite the subject, the work had an easy flow and structure and Rachel Scott discharged the simultaneous vocal and amplified cello parts with passion and to great effect.

The item between these two was another worry given Amnesty International's past features on Central America. But the programmers were merciful and Stephen Ingham's Panama turned out to be a take on an old jazz standard, for clarinet, bass clarinet and a CD-ROM that provided a virtual jazz rhythm section to get the audience tapping along, if occasionally on the wrong beat.

The second half started in bright style with Tekee Tokee Tomak for clarinet and CD-ROM, Martin Wesley-Smith's portrayal of post-independence East Timor, full of smiling people and beautiful landscapes. For the next piece, the positive mood grabbed an attractive ideal and the two danced shoulder to shoulder in Dave Smith's snappily-titled Mitchell Principles and Laws on Central Albania, for two clarinets. The Mitchell in question appeared to be Ian, past Clarinet and Saxophone Society Chairman, who had premiered it, but his Principles were not obvious in this alternately angular and glissando-ridden romp. However, Natascha Briger and Ros Dunlop communicated the mood well here.

With Ros Dunlop back on bass clarinet and Martin Wesley-Smith on the CD-ROM, the evening was brought to a close with Merry-Go-Round, his treatment of contemporary Afghanistan. More scenes passed rapidly before us, including children and men having naive fun aboard a small home-made merry-go-round. This, we were told, was an allegory for the repeated invasions suffered by the people of Afghanistan, but it worked most powerfully as a striking reinforcement of common humanity.

In a multi-media show, attention is necessarily shared amongst the components. Music communicates, but to achieve a message as strong and specific as this, the various media components were tightly harnessed in support of the central theme. The clarinet as political blunt instrument. Placing the solo players beside a large bright screen, further from the audience and beyond the mixing console, visually reinforced the supporting nature of their role. However, with occasional balance problems against the tape at the climaxes and a big acoustic to fill, perhaps the clarinet writing didn't always get the attention it deserved. It would certainly have been more interesting to hear the clarinet lines more amplified, and perhaps for the instrumentalists to have been further forward.

Overall, the apolitical works set the human rights issues in perhaps greater relief, and ensured there was plenty of variation in the programme. The subject matter was often hard-hitting and it is unlikely anyone left the church unmoved, though not necessarily for musical reasons. "Tekee Tokee Tomak" apparently means something like "Let's all get together", and it was a refreshing experience to see our instrument used in support of such worldly issues.
site contents
TEKEE TOKEE TOMAK
February 6, 2003
St Cyprian's Church, London NW1
reviewed by Carmel Budiardjo

It was a pleasant surprise to hear that Martin Wesley-Smith was in town and would be presenting a concert of his music much of which is dedicated to East Timor.
The name rings bells. The Wesley-Smith family has such a long association with East Timor. Rob is an old friend, an activist like myself who went the long haul for East Timor from obscurity in the 1970s to stunning success and international recognition more than two decades later. But I still had to find out what his composer brother was all about, and here at last was the opportunity.
The venue of the concert was a church in north London and the performers were two clarinetists and a cellist, with Martin busily pressing buttons on a video machine. An unusual combination, something quite new in artistic presentation. It was good too to see quite a crowd of East Timorese in the audience, for this novel experience.
The concert bore the name Tekee, Tokee, Tomak, a Tetum phrase meaning 'Let's all get together'. Yes, indeed!
Martin is a composer of considerable talent and versatility who has hit on the idea of audio-visual presentation for many of his compositions. And what could be a more suitable medium for his music than East Timor with so many visual records of its tragic experience.
Most of the music performed was programme music, telling a story that is helped by the visual presentation. But I have to say that when I first heard his composition, Welcome to the Hotel Turismo, some months earlier without the visual presentation, performed by the first class cellist, Rachel Scott, I was immediately taken by its shape, its changing moods and colour. A sombre and serious piece, like his other work, X, celebrating the outstanding role of the East Timorese leader, Xanana Gusmao. Tekee, Tokee, Tomak is a much happier piece, in which one feels the joy and high spirits of the East Timorese, at last savouring their independence.
Included in the programme was a composition by Dave Smith, called Mitchell's Principled Based on Albanian Laws, a piece full of dance-like melodies. I happened to be sitting next to an Albanian woman who showed her delight at the composition. with themes so familiar to her. The Klezmer-like character of this piece had a particular appeal to me and provided a good balance to the programme.
The clarinetists Ros Dunlop and Natascha Briger performed superbly well and the combination of sound and visuals worked extremely well in helping to give the compositions greater depth and to appeal to a very mixed audience.
The group are to be congratulated for bringing together this event which was both artistically rewarding and a powerful tribute to the courageous people of East Timor.
In 2002 Ros performed X and Welcome to the Hotel Turismo at the Community College of Southern Nevada, Las Vegas, USA and the Academy of Music in Vilnius, Lithuania. She performed X, and Julia performed Welcome to the Hotel Turismo, on the 2002 Tekee Tokee Tomak Tour to Leichhardt, Mittagong and Kangaroo Valley, Australia. Ros and Julia - Charisma - have performed Merry-Go-Round, which they commissioned, in Amsterdam, Berlin, Darmstadt, Darwin, Gent, Sydney and Weimar as well as on the 2002 Tekee Tokee Tomak Tour. In 2003, Ros performed X, Merry-Go-Round, Tekee Tokee Tomak and Welcome to the Hotel Turismo, with Martin, on the 2003 Tekee Tokee Tomak Tour to the UK and Hong Kong. Later in the year they took the same program, plus Martin's new Weapons of Mass Distortion, to the USA, performing a dozen concerts in art galleries and universities - for more info, click here. In 2005 they toured the USA, England, Holland, Ireland, Lithuania and Scotland (see here). In 2007 they presented Weapons of Mass Distortion and Papua Merdeka at the Asia Pacific Festival and Conference in Wellington, New Zealand.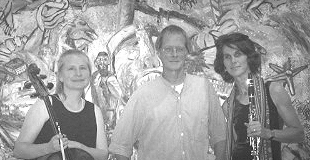 Julia Ryder, Martin Wesley-Smith and Ros Dunlop
at a December 14 2003 concert at Manly Art Gallery
(part of the State of the Art Peace exhibition).
They are standing in front of George Gittoes' painting
Merry Go Round (of war and peace) Afghanistan (2002).
To see a larger version (276KB) of this photograph, in colour,
click the image above. Photograph by Ella Bennetts.


site contents | go to top

e-mail Ros Dunlop for more information




hit counter

site updated July 27 2007