PLEASE CHOOSE A GARDEN PATH

Link to our Latest Project "Big Red" our holiday bus.

Hello and welcome to my Web Site. As you can see by my title I'm often found in my garden either smelling the flowers, pulling out weeds, moving plants to a better position, or much to my husband's dismay, creeping the garden into the remnants of the lawn. I live at Saint Georges Basin on the beautiful south coast of New South Wales, Australia and share my life and garden with my humble husband..."ha"... and three, quiet, young children..."ha ha ha".
Our garden of 1200 square metres, was started in 1988 as the house was being built and during this time I had to contend with many objects surrounding the house. These included brick stacks, sand piles, car bodies, and an incredible assortment of men's junk. Also a 32 foot boat belonging to my Father in Law was launched into our backyard. There was always the intention of a simple refit...but boats by their very nature are time and money consumers. So as a result there were ten long years of rennovations.... scrubbing, building, painting and hoping.
Finally with "Emma" the boat now afloat and the clear, blue water splashing against her hull, my quest for a garden has continued....and the tangle of weeds in the place where "Emma" once rested is now blooming with fragrance.
At the bottom of the garden, some long awaited plants are beginning to grow. A lush, white mulberry is sinking its roots and a butternut pumpkin is twisting and turning among the grapevines. The hardy white agapanthas, lavender, catnip and Russian sage are all surrounded by an edging of bearded irises and camelias. Although smothered by such an assortment of objects (especially the boat) I have managed to smile and find room for a productive and flourishing garden.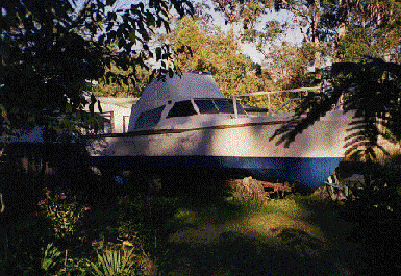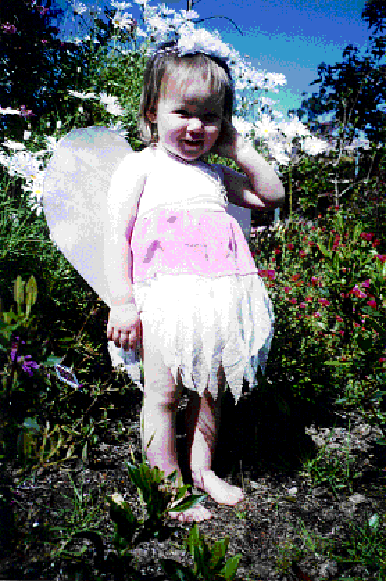 EMMA RESTING WITH THE FAIRIES



With a love of flowers and my favourite colour being purple I suppose it seemed natural that I should find the paintings of Claude Monet a great source of inspiration in beginning a garden. However, I had one slight problem to deal with, I knew nothing about gardening or the needs of plants and no experience of what to plant where. As a result of this lack of knowledge but lots of enthusiasm the garden did go through a few hiccups.
I learnt never to use lavender in a bog garden and also to avoid digging up deciduous trees when they lose their leaves. Following one such natural occurrence, I presumed our leafless Albizia tree was dead and consequently placed it into a bucket with no drainage holes. With disappointment our leafless plant was placed out of sight and neglected. Amazingly, this tree after surviving a season in this bucket was rescued and replanted when my husband Peter noticed its leaves returning. Our survivor is now healthy and beautiful.

It seems that Monet was not just a genius painter but also an extremely knowledgeable gardener. I find Monet's notes to his gardener (listed below) at Giverny in 1900 interesting and would love to have visited such a garden.
"Sowing: around 300 pots Poppies - 60 Sweet pea - around 60 pots white Agremony - 30 yellow Agremony - Blue sage - Blue Waterlilies in beds greenhouse - Dahlias - Iris Kaempferi. - From the 15th to the 25th, lay the dahlias down to root; plant out those with shoots before I get back. - Don't forget the lily bulbs. - Should the Japanese paeonies arrive plant them immediately if weather permits, taking care initially to protect buds from the cold, as much as from the heat of the sun. Get down to pruning: rose trees not too long, except for the thorny varieties. In March sow the grass seeds, plant out the little nasturtiums, keep a close eye on the gloxinia, orchids etc, in the greenhouse, as well as the plants under frames. Trim the borders as arranged; put wires in for the clematis and climbing roses as soon as Picard has done the necessary. If the weather's bad, make some straw matting, but lighter than previously. Plant cuttings from the rose trees at the pond around manure in the hen huts. Don't delay work on tarring the planks and plant the Helianthus cariflorus in good clumps right away. If anything's missing such as manure, pots etc, ask Madame if possible on a Friday so as to have it on Saturday. In March force the chrysanthemums along as the buds won't open in damp conditions; and don't forget to put the sulphur sheets back over the green house frames."
Monet's notes to his gardener, Giverny, 1900 in Artists by Themselves: Monet (ed Rachel Barnes, PRC 1992.)

OUR GARDEN IN 1995. NOTE THE LAVENDER IN A RAISED BED,

THIS TIME IT DID SURVIVE.
Perhaps you have inherited Green Fingers and want to help another fellow gardener. You can do this by contributing to "The GardenWeb Australia Forums" and answer someone's gardening question. Or.. perhaps like me, you have questions of your own and simply want another gardener's opinion. Whatever your purpose, I have found this a valuable gardening site.
Visit the Tasmanian Garden Journal which is a monthly journal site at Suite 101. Every month Gay Klok will be showing beautiful photographs of what is in flower in her garden during that time. This is an interesting and inspirational site which many gardeners will be sure to enjoy. The discussions are practical, informative and lots of fun.
Permaculture is a practical concept applicable from the balcony to the farm, from the city to the wilderness. It enables people to establish productive environments providing food, energy, shelter, material and non-material needs as well as the social and economic infrastructures to support them.

The love of gardening is a seed that once sown never dies.

(Gertrude Jekyll)
Sign My Guestbook
View My Guestbook

Pages Constructed by Peter and Romaine Undery .
Any comments or planting suggestions to Romaine
Last Weeded and Seeded 2nd of January 2002.